20th Annual The Blues Cafe March 8-9, 2019
To celebrate 20 years of the Blues Café, our friends at the Great Northern Blues Society will be kicking off the weekend by hosting a 20th Anniversary Party, Friday, March 8 at the Rothschild Pavilion. Doors will open at 5:30 pm, with Howard "Guitar" Luedtke getting things started at 6:30 and Reverend Raven & The Chain Smokin' Altar Boys featuring Westside Andy taking the stage at 8:30. Saturday's lineup will include the Mark Cameron Band at 1 pm, the Ivy Ford Band at 3 pm, the Cash Box Kings at 5 pm, the Danielle Nicole Band at 7 pm, and Ronnie Baker Brooks at 9 pm. Doors will open at noon. We hope you can join for a weekend of great music, and to celebrate 20 years of good times at the Blues Café.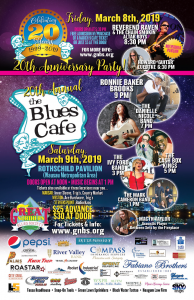 ---

Dates are set for 22nd Anniversary Prairie Dog Blues Fest! July 26 & 27, 2019
Welcome to prairiedogblues.com! The Prairie Dog Blues Festival is held every year on historic St. Feriole Island, right on the Mississippi River and nestled between jagged cliffs and green hills untouched by the Ice Age!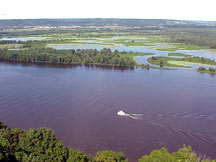 Once you get that cold drink in your hand, great tunes in your ear and good, friendly people all around, you'll realize your at one of the most beautiful venues anywhere. You'll soon be calling yourself a Prairie Dogger! Blues and Roots music from Chicago Blues to West Coast Jump, hard-driving Mississippi Hill Country Blues, New Orleans horns and Texas Boogie, Zydeco, Gospel, Blues Rock – We've got it all!
Video Highlights

Somebody To Love with Dana Fuchs

Samantha Fish – Gone for Good

Altered Five Blues Band "Charmed & Dangerous"